Golowin Legal can now provide remote online notary public services to those that want to sign important legal or estate planning documents such as durable financial powers of attorney, health care powers of attorney, living wills, deeds, and contracts in the comfort of their home. This is especially helpful at the moment due to the COVID-19 coronavirus pandemic and current state of quarantine in Ohio.
In order to sign your documents with a remote online notary public, you must: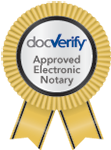 Have a device with a web camera and internet connection. This is because the notary public must be able to see and hear you during the meeting, and you must be able to see and hear the notary.
Answer security questions when logging in to the online notary public website. These are to prevent impostors from being able to sign documents as though they were you.
Present your identification (such as a driver's license) during the web meeting to verify your identity to the notary public.
Pay the remote online notary fee of $25 per document.
Once the documents are signed online, the remote online notary public can affix the notarial certificate, signature, and seal. A digital version (PDF) of the signed and notarized document will be provided to you, and any copy that you print will be considered an original document. County auditors, engineers and recorders are required to accept a printed document that was notarized electronically for purposes of approval, transfer and recording if the document contains the required notarial certificate.
If you need to have a document notarized and would like to do so from your home, book a time now for remote online notary public service, or call Golowin Legal at (614) 453-5208 to schedule a time that is convenient for you. Further instructions will be provided at that time to guide you through the online notary process.
Hits: 90